Purpose of usage:
FTTH drop cable patch cord is a fiber optic drop cable, each end is pre-terminated with SC, FC, LC heads with PC, UPC or APC polishing. That provides quick access for connection in fiber optic telecommunication networks.
Key advantages of drop cable patch cords:
1.Save the total costs of fiber network.
2.Increase the speed of deployment, per end user connection, last mile.
3.Plug and play, no more fiber splicing during installation
4.Low insertion losses.
5.Various patch cords length.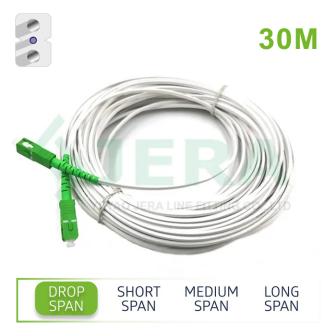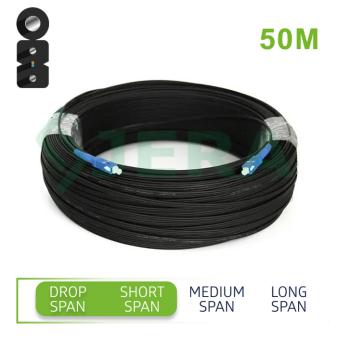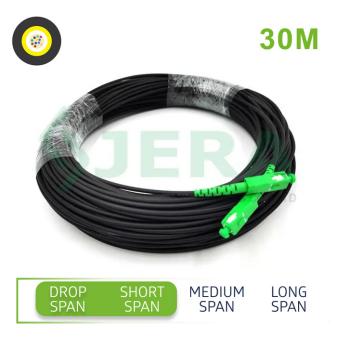 Typical configurations of drop cable patch cords:
1.Flat type (butterfly type) of sizes 2.0*3.0 mm
2.Round type, diameter 2.0-3.0 mm.
3.Double jacket round type, diameter 3.5-5.0 mm
4.Figure-8 type, size 2.0*5.0 mm
Drop cable patch cords are made of:
1.Connector heads with zirconia ferrule.
2.Cable of LSZH or PVC made jacket
3.And fiber core G652D, G657A1 or G657A2 which depend on application demands from customers.
4.Fiber core is protected by tight buffer tube, or loose tube.
5.Cable sheath materials is available by PVC and LSZH in white or black color.
6.Reinforced materials such as steel wire, FRP rods or aramid yarns, up to cable's configuration.
Typical lengths of patch cord:
Drop cable patch cords can be produced with different lengths such as 0.5, 1.0, 2.0, 3.0, 5.0 100, 200 m and etc,
Conclusion:
With the rapid development of communication technology, FTTH is an economical and affordable technology with the advantages of large bandwidth, high reliability, and low cost, which can meet the needs of access to network for end users.
Want to know more information about fiber optic drop cable patch cords, welcome to contact us.
---
Post time: Feb-04-2023